¨Being Mayan is not determined by your place of birth or the color of your skin. It is in the heart. It is a dimension.¨ – Mayan spiritual guide (Ajqij) Tata Thomas Walter Mendoza
2022 offerings: May 21-28 & September 3-10
Join us for a week of intentionally cultivating relaxation, mindfulness, joy, gratitude, and peace in a small group setting (4-10 people) at the shores of Lake Atitlan, in Guatemala. We'll deepen our yoga and mindfulness practices as we learn about the Mayan cosmovision and calendar through Mayan fire ceremony, personal readings and daily transmissions on the energies of the day in the Mayan calendar.
The Mayan Cosmovision is a worldview in which our interdependence with all of nature is explained through the wisdom of the Mayan calendar and the cycles of the sacred day count. This work reveals great mysteries to those who are aligned, grounded, and open. We feel honored to welcome Mayan elders and spiritual guides Tata Thomas Walter Mendoza as well as Nana Ixquik and Nana Rosalia (also traditional midwives) to host our opening and closing Mayan fire ceremonies. All of them great wisdomkeepers who will share their profound medicine.

You will be guided into a daily meditation, ritual or drum journeys to connect with the energies of the day in the Mayan calendar. This will help you understand how to work with the energies of the Mayan cosmovision and let this guide you into a natural creation flow and apply this to your daily life. These practices will likely open you up to a new perspective on life and facilitate a deeper connection with yourself and a more natural unfolding of your projects, purpose and inspiration.
Retreat Outline (example)
Day 1 – 10 Tijax: Arrival from 3:00-5:00 pm, Dinner
Day 2 – 11 Kawok: Breakfast, Opening yoga & sharing circle, Free time, Lunch, intro to Mayan Cosmovision, Dinner
Day 3 – 12 Ajpu: Breakfast, Mayan fire ceremony, Free time & personal Mayan readings, Lunch, Free time & personal Mayan readings, Yoga, guided 12 Ajpu journey & writing workshop, Dinner
Day 4 – 13 Imox: Breakfast, Slow flow Yoga, Optional trip to San Juan/San Marcos, guided 13 Imox dreamjourney, Dinner
Day 5 – 1 I´q: Breakfast, Yoga & Mayan energy transmission, Free time, Lunch, Free time, Optional cacao or sweatlodge ceremony, Dinner
Day 6 – 2 Aqabal: Breakfast, Yoga, Free time, Lunch, Free time, Yoga, Mayan energy transmission & creative writing, Dinner
Day 7 – 3 K´at: Breakfast, Mayan fire ceremony, Free time, Lunch, Free time, Closing circle (yoga + writing), Dinner
Day 8 – 4 K´an: Breakfast, Check-out 11:00am
About the Leaders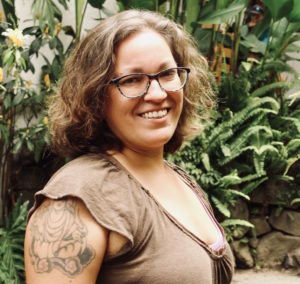 Michelle Margaret Fajkus (6 Kej) is a writer and yoga teacher who has passionately shared the practice of yoga with students of all ages since 2002. She has lived at Lake Atitlán since 2012 and has been studying the Mayan calendar and cosmovision since 2015. Michelle's yoga style is slow flow mixed with kundalini, yin, pranayama (breathing practices), mindfulness and joyfulness. Her classes are suitable for all levels and body types. She has led yoga, mindfulness and writing retreats in Guatemala since 2010. Learn more about Michelle.
Lieke Moras (10 E') is a doula and energy worker who passionately guides others through their healing and transformational journeys. She offers womb work, shamanic journeys and energy healing and brings this together with the wisdom of the Mayan calendar. In 2017, she came to Lake Atitlan to study the Mayan traditions for her MSc in Medical Anthropology. Here, she discovered her profound connection with the Mayan people and their cosmovision. Since then, she has been living with the Mayan calendar on a daily basis and found her own way to integrate this wisdom into the work that she does, letting it guide her creative processes. As a doula, she supports families on their journey of (pre)conception, pregnancy, birth and beyond – bridging worlds and birthing traditions.
Heart-centered Mayan spiritual guides will join us to lead Mayan fire ceremonies at the beginning and at the end of the week.
What's Included:
Course tuition
Mayan fire ceremony with Tata Thomas and Nana Ixquik & Nana Rosalia
Two 30-minute personal Mayan astrology readings (one with Lieke, one with Thomas)
7 nights of accommodation in a deluxe room (private and shared options available)
Daily vegetarian meals and unlimited self-serve local Guatemalan coffee, herbal tea and drinking water (vegan and gluten-free options available; fish/chicken may be ordered for an extra fee)
Mayan Cholq´ij calendar (either in paper form or in PDF)
Not included: transportation costs, tips to Villa Sumaya staff, optional Sweatlodge & Cacao ceremonies.
Rates & Registration
Deluxe private room: $2222 USD Private bungalow: $1995 Double room: $1695 per person
A 50% deposit is required to hold your space.

We look forward to welcome you into the world of the Mayan magic… a deep soul journey inwards. Reconnecting with your essence. Coming home to your original and ancestral self. Don´t hesitate to get in touch with us for any questions.